The Great Himalayan Traverse
A 100-day Semester in the Himalaya

"9 college credits from University of Pittsburgh."

"In collaboration with University of Pittsburgh, Hanifl Centre offers 9 college credits as an option to students who choose to embark on this 100-day semester." The Great Himalayan Traverse, a 100-day outdoor and environment-based semester in the Himalaya, is not for the faint hearted. The semester aims to help students immerse themselves in the culture and natural history of the Himalayan regions of Ladakh, Himachal Pradesh and Uttarakhand, while learning practical skills such as leadership, teamwork and decision making. By engaging in activities such as mountaineering, wilderness first aid and targeted social service, students will gain hands-on experience and insight into topics such environmental degradation, human-wildlife conflict, and conservation within the regions of the Western Himalaya. On the semester, students will spend 70% of time trekking, mountaineering, service learning, while the remainder of the time will be spent engaging with local communities and traveling between locations.
Highlights of the semester
9 College Credits: 3 – Anthropology and Geography; 3 – Risk Management and Leadership; 3 – Environmental Health and Biodiversity
2 weeks at Hanifl Centre; Wilderness First Aid certification & training in outdoor living skills
2 weeks in Ladakh; trekking and home stay
1 week in Ladakh - Spiti; trekking over Parang La pass to Kaza
1 week in Spiti (Himachal Pradesh); service work with an NGO
1 week in the Garhwal area of Uttarakhand; Travel, trekking over Bali pass
2 weeks in the Garhwal area of Uttarakhand; mountaineering
1 week in Mussoorie at Hanifl Centre; resting, indoor climbing
2 weeks in the Kumaon area of Uttarakhand; trekking, homestay, wildlife safari
2 weeks of travelling between locations
Hanifl Centre support
Dedicated Hanifl staff for all pre-departure questions and logistical support
Support from meeting at New Delhi on day-1 till drop off at New Delhi on day-100
All in-country travel during the semester including arrival and departure airport transfer
All meals beginning with dinner on day-1 to breakfast on day-100
Potable water for the duration of the semester. (Chlorine based tablets for field use)
Accommodation at Hanifl Centre in dormitory beds. Twin sharing beds at hotels and during home-stay
Dedicated Hanifl Centre field instructors (WFR certified) for all field portions of the semester
Satellite phone for all field sections of the semester to be used in case of an emergency
Dedicated admin staff for the portions based at Hanifl Centre
Access to Woodstock School's library, gym and climbing wall
Access to Woodstock School's physician and health clinic for minor ailments
Access to Landour Community Hospital for medical emergencies
Group Size: 10-12 Students and 2/3 staff
CURRICULUM
Leadership
Different leadership styles and roles are discussed. Being able to choose the right style for specific situations while leading is a skill. Active followership is also a skill that will be addressed.
Decision Making
Tools on decision making will be discussed, keeping in mind the travellers' point of view, their skill and fitness levels. Decision making with regards to trail conditions, weather and group strengths.
Communication
Tools on effective & meaningful communication with team members.
Outdoor Living Skills
Pack packing, campsite selection, tent pitching, staying warm & dry, cooking & stove use will be taught and discussed daily. Basics of compass use and functional map reading for Indian conditions will also be covered. Ropes and Knots; Anchors and Anchor Systems Introduction to types of ropes and their specific uses; handling & storage of ropes; basic knots and their usage; types of anchors & anchor systems and related hardware. Use of harness and rappelling will be taught along with constant emphasis on safety & risk assessment.
Hazard Evaluation
Landslide crossings, rock-fall areas, extreme exposures, etc. will be covered. Hazard identification and evaluation in the context of camp site selection, river crossings,
Mountaineering
Use of ice-axe, crampons and snow climbing will be taught. There will also be a focus on acclimatization and prevention of altitude related illnesses. There will be an attempt to summit a 19,000 ft peak
Expedition Behaviour
Good & bad EB will be taught with on-going examples to demonstrate how in a wilderness setting, when the going gets rough, bad behaviour can ruin a trip.
Conflict Management
Causes for conflict; negative effects of conflict especially in a group scenario & Conflict Resolution will be addressed during the course.
Leave No Trace Ethics
The 7 principals of Leave No Trace™; Plan Ahead and Prepare; Travel and Camp on Durable Surfaces; Dispose Waste Properly; Leave What You Find; Minimize Camp Fire Impact; Respect Wildlife; & Be Considerate of Others will be taught, discussed and practiced.
Environmental Appreciation (trees, birds, general flora & fauna)
Knowledge of local flora and fauna and their English names. On-going discussions on the role of the village Panchayat, Van Panchayat and how these bodies can directly affect the land surrounding villages
Personal Hygiene
The importance of personal hygiene and practices that lead to good health will be stressed daily. Contamination of food & water due to poor personal hygiene, personal grooming, being presentable, etc. will be addressed daily.
Local Myths & Legends
Story telling & informed conversations to help a traveller relate to their new surroundings in a better manner, helping them be sensitive to different cultures, rituals and people.
Equipment Care and Maintenance
Care and maintenance of equipment like stoves, tents, zippers, climbing gear, etc. will be addressed.
Wilderness First Aid (WFA) with Adult & Child Cardio-Pulmonary Resuscitation (CPR)
The 20-hour Wilderness First Aid & CPR curriculum is spread over 16 days of the course. These skills prepare students to deal with medical emergencies that may occur in outdoor and urban settings. On successful completion, participants will receive WFA (16 hr) and CPR (4 hr) certifications. Both certifications are internationally recognised and valid for 2 years. Some of the topics which will be covered during the section include identifying and managing:
Patient assessment & long-term care
Shock & Bleeding
Airway emergencies
Breathing emergencies
Wilderness wound management
Fractures & Dislocations
Heat illnesses
Altitude injuries
Bites and stings
Allergies and Anaphylaxis
Evacuation guidelines
Cardio-Pulmonary Resuscitation
Cold injuries
ITINERARY
Day 1: Arrive at New Delhi and transfer to YWCA International Guest House for the night
Day 2: Travel by train from New Delhi to Dehradun (6 hours). Coach to Mussoorie-Hanifl Centre (1.5 hours). Arrive by 3 pm. Settle into dormitory and rest
Day 3 - 4: Orientation to Hanifl Centre and Mussoorie. Acclimatization walks
Day 5 - 7: Wilderness First Aid course (8 hours each day). Evenings are free to use the indoor climbing wall, weight room and gym at Woodstock School
Day 8 - 12: Outdoor living skills, overnight hike, preparations for the trek
Day 13: Purchase any last-minute items for the trek. Rest
Day 14: Orientation to the trek, travel considerations etc. Depart at 8 pm for the train to New Delhi
Day 15 - 20: In Leh (11,000 ft). Acclimatizing for 2 days and trekking for 3 days with homestay
Day 21: Rest and prepare for Parang La trek
Day 22 - 32: Trek over Parang La (18,414 ft) and reach Kaza
Day 33 - 41: In Kaza and surrounding villages. Service learning with an NGO
Day 42: Rest and prep for travel to Sankri
Day 43 - 44: Drive to Sankri Overnight near Rohru (near Shimla)
Day 45 - 46: Rest at Sankri and prepare for trek
Day 47 - 53: Trek over Bali Pass (16,335 ft)
Day 54: Drive to Gangotri
Day 55 - 66: Mountaineering. Attempt to climb Rudragera peak (19,027 ft)
Day 67 - 69: Travel back to Hanifl Centre in vans (8 hours)
Day 70: Night train to Kathgodam
Day 71 - 77: Homestay at Majkhali Service-learning
Day 78 - 88: Trekking in the Milam valley
Day 89 - 92: Outskirts of Corbett Tiger Reserve
Day 93: Travel to Rishikesh
Day 94 - 96: Rafting on the Ganga
Day 97: Travel to Hanifl Centre (4 hours). Begin gear clean up
Day 98: Journal entries, reflection time and banquet
Day 99: Graduation and travel to New Delhi (7 hours).
Day 100: Semester ends at noon.
COURSE MAP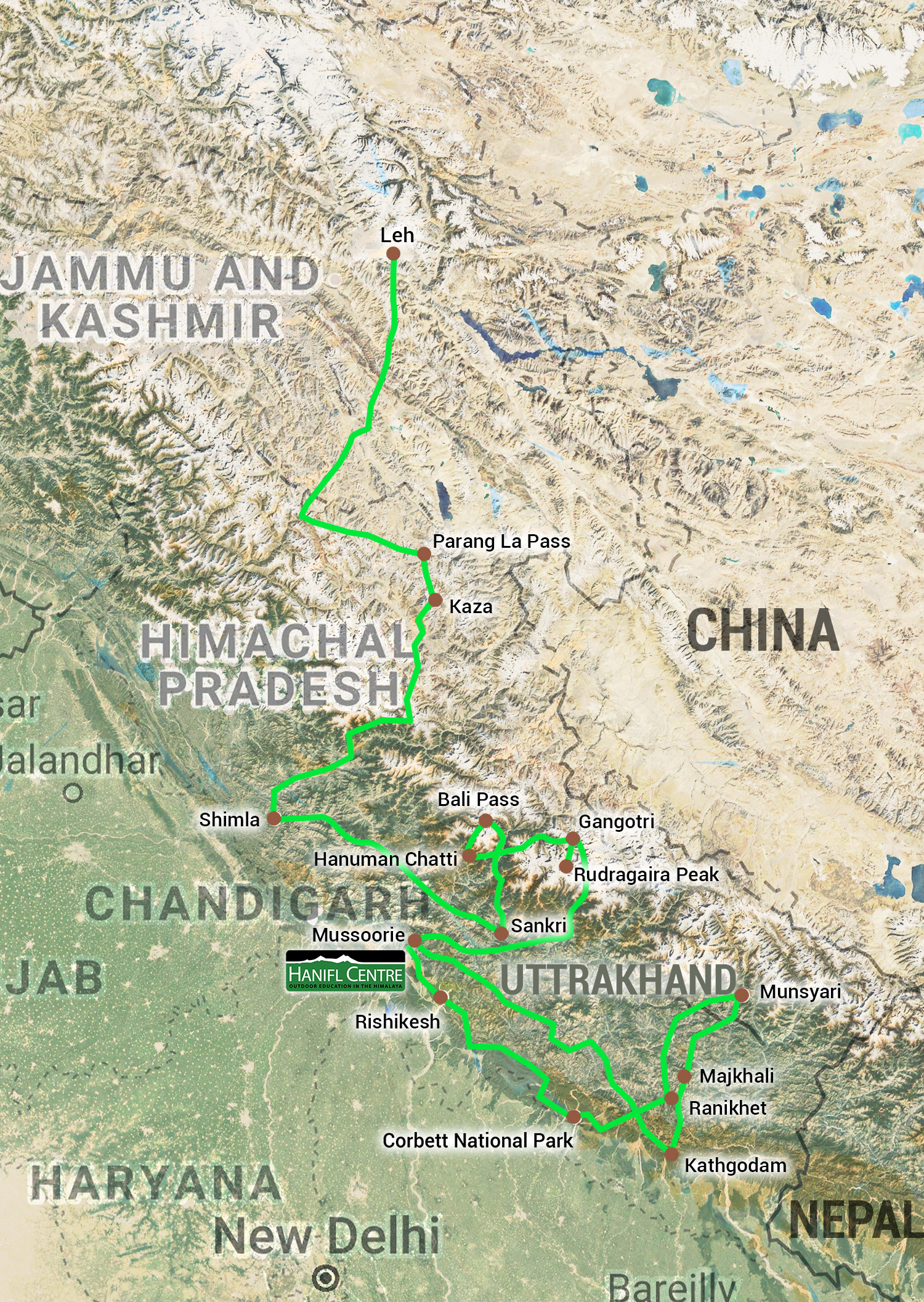 Packing List Ideal for Courses at Hanifl Centre
Mentioned below are the inclusions of the course, along with a broad list of basic items we recommend all participants should carry. You can always create your own packing list based on your personal needs and medical requirements.
BRING -
Sun hat (Cotton or nylon)
Sun glasses (Preferably with an anchor)
Sun protection (1 bottle of lotion)
Water bottle (2 bottles of 1 litre capacity)
Wrist watch
Headlamp/ flashlight (Preferably a headlamp as it leaves your hands free to work. Please bring extra batteries)
Toilet articles (Toothbrush, toothpaste, etc)
Pocket knife (optional, fixed blade or locking preferred)
Personal medications (if any)
Lip balm/ chapstick (optional)
Stationary items like notebook and pencils
Camera (optional or phone-cam)
Any other personal gear (Please note you will be carrying all your gear by yourself)
WEAR -
Comfortable and athletic clothing
Wool gloves (1 pair, as thick as available in the market)
Warm Jacket (1 jacket is sufficient)
Warm shirts & pants for camp (1 each is sufficient)
Long john top also known as thermal underwear, preferably wool to be worn as first layer
Long john bottoms (preferably wool to be worn as first layer)
Hiking shorts/ pants (1-2 changes)
Hiking shirt preferably with a long sleeve
Underwear (1-2 changes)
Wool socks : 2 pairs; preferably thick wool socks.
Nylon socks : 2-3 pairs; of the type you wear daily to be worn under the wool socks to prevent blisters.
Sturdy hiking boots : preferably all leather upper as it provides better ankle support. If you do not own a pair yet, it is advisable that you buy one as soon as possible & wear it often so that they are well broken. This will help prevent blisters.
Lightweight tennis shoes/sandals : For wearing in camp. (footwear should be closed toed, no flip-flops)
INCLUDED SERVICES -
Expert guides/mentors. Experienced and internationally certified faculty.
All participants are provided with our Wilderness Medicine manual.
Transportation for activities during the semester.
Forest permits for hikes and camping (if outside Woodstock campus).
Safe-secure stay during the programme.
Medical Emergency Support at Woodstock Health Centre/ Landour Community Hospital (LCH).
INCLUDED GEAR -
Climbing Gear: All climbing gear is provided by Hanifl Centre. These includes different types of ropes, harnesses, helmets, slings, tapes, carabiners, mittens, descenders, ascenders, etc. Our Climbing wall is state-of-the-art and is fully equipped with climbing gear and safety equipment.
Camping Gear: Tents, sleeping bags, sleeping pads, backpacks, gaiters, cup, bowl & spoon, rain poncho, rain pants & rain jackets, stoves, fuel & fuel bottles, cooking utensils, rations, trail food, trowels, water purification tablets, first aid kits, etc. will be provided.
Please Note:
In case of damage or loss of any gear item, the participant will be required to pay for its replacement or repair.
You are welcome to bring and use your own gear. However, it will be checked for its worthiness before field use.
The list above is exhaustive but not all inclusive. You can customize the list to best suit your needs.
Below are a few Frequently Asked Questions regarding our courses. If you have not found an answer to your query below, please feel free to write to us at haniflcentre@woodstock.ac.in
Q1 - Are all meals taken care of?
Ans - All meals starting with dinner a night before the course starts till lunch on the day the course ends will be taken care of. There will be tea/biscuits in the morning and afternoon on all class days, while at Hanifl Centre. For the trek, participants will carry their rations with them provided by Hanifl Centre.
Q2 - Where will we stay?
Ans - All participants will be housed in the Hanifl Centre dormitory. We have 32 beds (8 bedded/4 bedded units) with one side dedicated to each gender (male/female). Each side has separate bathroom facilities. There is an attic/loft on each side that can be accessed by participants if needed. There is a connecting door that can be locked between the 2 sections. Accommodation will be in tents while on the trek (3 Person/4 Person tents).
Q3 - Are there charging points for electrical appliances?
Ans - There are 1-2 charging points in each room, depending on the layout (4 bedded/8 bedded). We can provide 2 extension cords, one for each section for participants to charge their devices.On the trek, we recommend participants to only carry basic electronic appliances as options for charging will not be available in the field.
Q4 - Are there laundry facility in Hanifl Centre?
Ans - We do not have laundry facility at Hanifl Centre. We have a school dhobi who can do your laundry. He will come and collect the clothes from the Hanifl Centre and will bring it back to on a set date. Payments are to be made directly to the Dhobi. We will share the price list of the Dhobi with you. Participants can get their own washing powder/bars and do laundry by themselves in the dormitory. There are a few cloth lines at the attic and we can provide drying stands if needed.
Q5 - How is the mobile connectivity?
Ans - There is very limited mobile coverage in Hanifl Centre. However, there are certain spots where you can get network, we will show them when you are in campus.
Q6 - In which language is the course taught in?
Ans - The course is taught in English.
Q7 - What is the maximum size of the class?
Ans - The maximum size of the class is 12 participants.
Q8 - What is the student: instructor ratio?
Ans - The participant: instructor ratio is 12:2
Q9 - How to reach Hanifl Centre?
Ans - By Bus: Dehradun is well connected with all major cities by road. There are AC, Non-AC and Volvo services available from ISBT Kashmere Gate, New Delhi. The journey from New Delhi to Dehradun is about 6-7 hours. From Dehradun, one can take another bus/shared taxi to Picture Palace, Mussoorie. Hanifl Centre is about 4-5 kms from there. Local taxi from Picture Palace to Hanifl Centre would cost about INR 350 (Note: There is a second bus stop/taxi stand at Library, Mussoorie. Please do not go there as it is much farther away from the Hanifl Centre). Alternate- You can also take a taxi from Dehradun to Hanifl Centre. Approximate cost could be anywhere between INR 1500-1900. By Train: Dehradun also has a railway station and is well connected with major cities. Please check https://www.irctc.co.in/nget/train-search to learn about trains from nearest station. By Flight: There are daily flights from Delhi to Jolly Grant Airport in Dehradun. Delhi is well connected with other major cities. We are 3 hours away from the Jolly Grant Airport.
Q10 - Is alcohol consumption/smoking allowed?
Ans - Hanifl Centre is an extension of Woodstock school. We adhere to school policies and do not allow consumption of alcohol or other substances in the premises.
Q11 - Is there a safe available?
Ans - We recommend participants not to bring valuables or overtly expensive items. However, there is a small safe available in the office for keeping cash and other small valuable items. Before the hike, participants can keep their valuables in the safe if required.